Security Printing Plant
The printing plant layout facilitates smooth flow of production, right from pre-press operations, plate-making, printing upto multi-colour printing and post-printing operations of binding, pinning, cutting, packing and dispatch.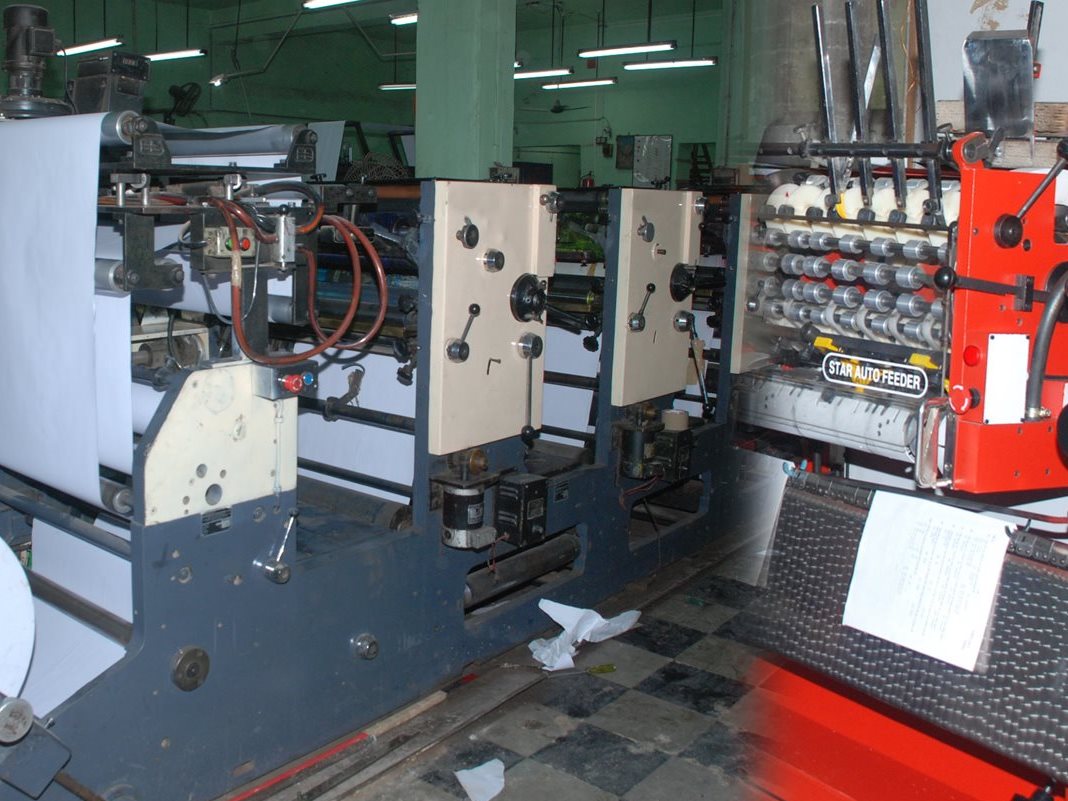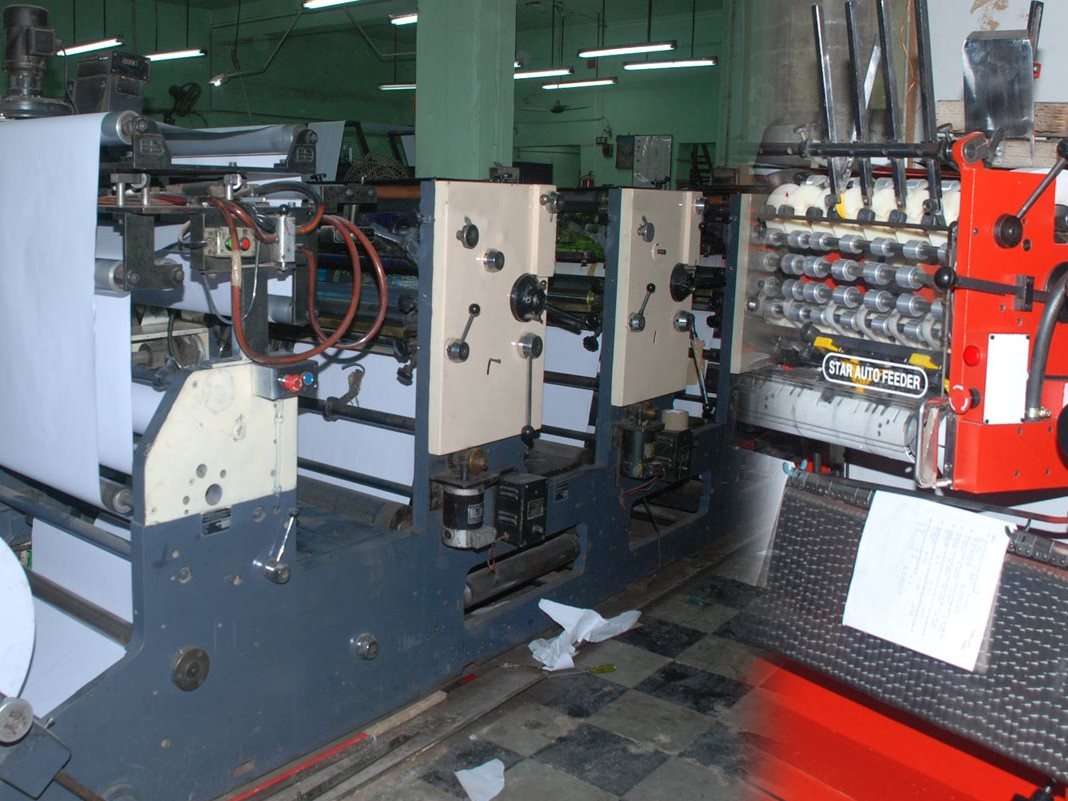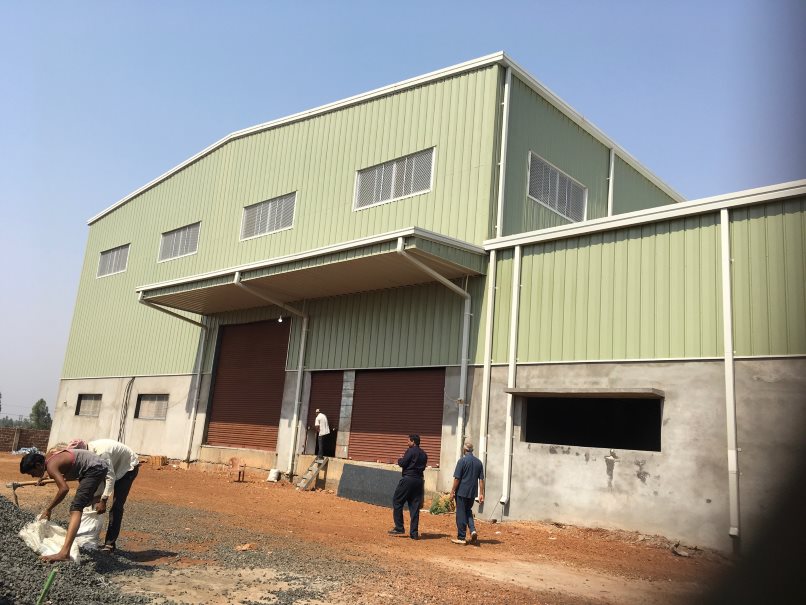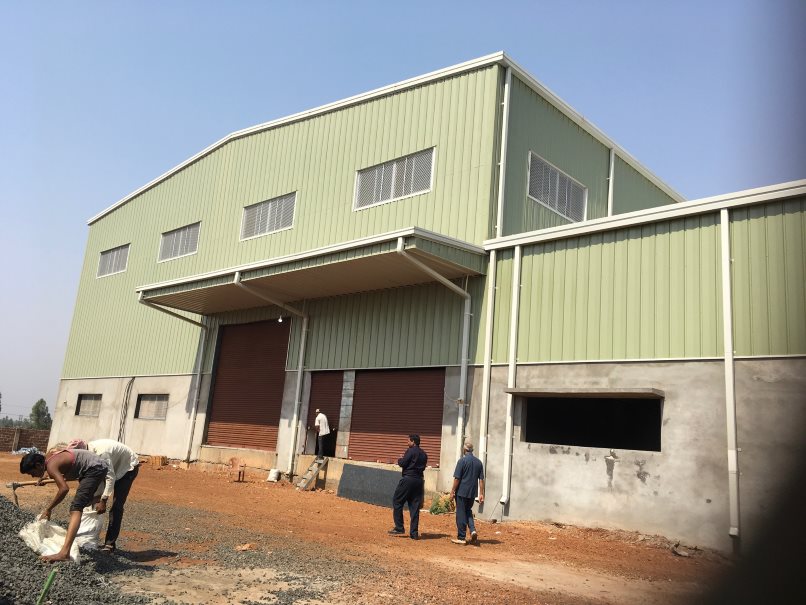 New Security Printing Press under construction as part of our expansion
Printing  Plant No.1 and Plant No.2
Both the Security Printing Plant No.1 and 2 are located at Bidar,  approximately 125 kms from Hyderabad. The plant and buildings scrupulously adhere to all the norms stipulated for security printers by Indian Banks Association (A division of Reserve Bank of India).
All the operations, from design to dispatch of printed material, are done under one roof in an area of 55,000 sq. ft. In our Plant No.1  and 1,00,000 sq.feet in our Unit II.
Bidar being situated in the centre of India, we can deliver the printed material to any part of the country within 2-4 days.
SALIENT FEAURES OF THE MANUFACTURING PLANTS
All facilties like Designing, Printing, Binding, Finishing and Packing and Despatch under one roof.
Production of Security Papers with Dandy/Cylinder Mould Water mark even for small run jobs at short notice. We can produce paper with embedded security thread and illuminating security fibres. This Security Paper can be wet strength, coated with sensitive chemicals for anti-forgery and better quality laser printing. It will be U.V. dull finish for long shelf life.
Completely Secured Area for operations with huge capacity to undertake high volume sensitive jobs.
We work 24×7, assuring timely delivery of goods.
Total Secrecy of the job entrusted to us is maintained.
Every consignment of printed material is accompanied by a trained and empowered Representative of the Company from the Plant to Customer's destination – even to the entire District Head Quarters of any State. We have rich experience in handling dispatches meant for nodel centres on all India basis.
Right from day one from the time of receipt of an order till final delivery of the printed material to the desired destinations, our Monitoring Cell closely monitor the movement of the goods, keeping close liaison with the customer.
We track the movement of vehicles through our GPS system attached to the Lorry carrying the goods and controlled by the Monitoring Cell. We fix and adhere to the correct date of delivery of goods.
Security Features incorporated in Security Documents
DANDY WATER MARK: Dandy Water Mark is the highest form of Security Feature, universally being, incorporated in all Documents of importance. This Water Mark can not be copied or scanned by anybody and hence, this is treated as the best form of Security Feature. The water mark is created while making the paper. This is embedded in to the paper; it is permanent and can not be removed.
U-VERIFY: Text, Picture, Image printed will not be visible to the naked eye and cannot be copied by using computerized scanners or colour copiers. Such Image/matter or picture printed can be seen only under certain range of ultra violet rays.
SOOKSHMAKSHAR: We will give invisible printing of your University's or Board's name and this can be seen only with the help of an eye-glass, and will not be visible or naked eye. The place of such printing will be kept secret.
HIGH RESOLUTION BORDER: We will fine decorative border in the Certificate through mathematical calculations in our special computer and this can not be easily copied by others.
NUMBER AARPAR: Continuous Serial Number printed in Document can be seen through from back side, and hence, it would be difficult for anybody to alter or change, because of special printing method. We have two special type Fonts viz. Gothic and Alpha Numerical.
MASK-A-PRINT: The matter printed, with special effect printing, can be seen only with the help of a special type FILM and the printed matter cannot be seen otherwise due to masking.
COPY-N-CHECK: By this method, if copy of the Document is made through a Xerox Machine, the word "COPY" or "DUPLICATE" or "VOID" will appear, though in the Original Document such words printed will not be visible.
SPARSHA PARIKSHA: The matter or logo printed will be visible to the naked eye, but it will DISAPPEAR if exposed to certain temperature or rubbing by hand, by hot air, keeping the print in hot sun etc. THE DISAPPEARED IMAGE/LOGO/ LETTER will REAPPEAR in its original form, once the print comes back to normal room temperature.
BAR CODE PRINTING: Bar code can be printed in the Document to match with the Numerical Numbering. This Bar Code Number can be deciphered through a hand held scanner.
 PRISMATIC PRINTING: The Security Document can be printed in multi-shaded colours as in RAINBOW and the look will be fine. It is difficult to be copied by others, as the colour combination is too intricate.
BLIND EMBOSSING: Your logo can Embossed ON-LINE BASIS, through a special method while the Security Document is printed.
Request for Details About Security Features
Equipped with more than 30 nos. work stations and servers, for designing and type- setting, we have Soft-wares & Fonts required for type- setting of all Indian Languages and most of the Foreign Languages, Imported soft-wares  to incorporate Anti-Counterfeit Security Features, for value Document Printing, such as University Degree Certificates, Land Record Pass Books, Bank Cheque Books, School Board Certificates, Lottery Tickets, Visa Application Forms etc.
The plant has Eight independent lines of high-speed multi-colour web-offset Printing Machines. All machines have facility of printing on-line Security Numbering. The plant has a capacity to print and dispatch over 20 million documents every-day.
We have installed two nos. state of art Ink Jet Printing Machines  with 300,600 and 1200 pixels quality,  on-line in our web offset printing press (one in our six colour offset unit with  two dry offset unit and another one in our Four/Eight Colour web offset Press),  and hence all variable data printing such as Students Photo, data, QR CODE/Bar Code with inbuilt Security Software can be printed at the same speed of our Printing Machine.  All VDP jobs viz. School Board Certificates, Marks Card, Answer Booklets, OMR sheets etc. can be filled with variable , while we print the static matter in our six colour or four colour/eight colour web offset Press. All sorts of paper substrates and chromo & coated art papers can be printed in multi-colours with on-line machine numbering with variable data.
Hence, any Documents such as School Certificates can be, if required, despatched directly to the School or Divisional Office concerned after VDP printing from our Press. All we need is the data in a pen drive. We can even organise cropping of photo with data and create QR CODE of the Data through our Software Department.  We can provide various styles of Numbering / Bar-coding – online and offline, including Variable Data Printing with perforation and folding etc.
For Post Printing, Finishing and Binding, we have fully Computerized Programmable Cutting Machines, Automatic wire stitching machines, One Perfect Binding Machine and one 6 station Gathering – double head wire stitching with three knife trimming machine. Three  hot foil / hologram stamping machines.
O M R Sheets  – SINGLE AND two and three part.  We also undertake O M R scanning and result processing work for selected customers.
We have capacity to produce more than 4,00,000 O M R Sheets per day. We can also supply O M R Sheets 1+1 and 1+2 for high-end examinations with Bar Code/Variable Data, Litho Code and with security features such as U.V. invisible printing. All O M R Sheets we produce are pre-scanned for ensuring perfect quality.
Printing Plant Specialities
We have capacity to print 6 lakh exam Answer Booklets per day upto 48 pages in one go, with automatic ON-LINE MACHINE NUMBERING, folding and center glueing facility for binding purpose.  We can also have Machine Stitching facility in addition to pinning the booklets at two places – along with O M R sheets. The stitching of Answer Booklets and packing of booklets will be done simultaneously and dispatch can be made quickly to meet the delivery schedule of customers.
We can also provide hole punch and Letter Punch like what you see in Passport for security purpose.
We have handled dispatch of more than 25 lakh booklets for one party and delivered to their desired destinations at District Head Quarters.
For Packing, we have 3 strapping machines, 2 shrink wrapping machine etc.
Entire plant is equipped with a power back-up (UPS) to ensure uninterrupted flow of work.
We have in-house expertise and R&D facilities to formulate and manufacture very special and sensitive security inks to print Anti-Counterfeit Features. This facility ensures that we can offer our customers printing with EXCLUSIVE INKS which are made ONLY FOR THEM and are not available with any other security printer or security ink manufacturer, and thus safeguarding them from any attempts for forgery.
The entire Printing facility area is planned and designed to comply with the RBI stipulated norms for Security Printers, a fully guarded campus with a high compound wall on all four sides. The facility is manned round-the-clock by security personnel. All operations inside and outside the building are continuously monitored by remote Hi- Tech Surveillance Equipment. Round-the-clock CCTV monitoring system helps to supervise critical operations. Same type of Security Systems are put in place in all our Plants viz.Security Printing Unit I,  Printing Unit II  and  Security Paper Manufacturing Plant.
We have Computerized Attendance Access Control System for Entry and Exit of employees, as well as for visitors through Biometric Identification – an added feature enhancing security. We have separate entry for Ladies and Gents and provide pocket less Uniforms after they go through Dress Change Rooms, duly watched by our Security Staff.
All possible safety measures are taken to ensure safety and security of printed documents.  All important gates pertaining to key operations are guarded by 24×7 vigil through CCTV and Security Staff.